---
Potrava
23. 9. 2007
Správná strava

Tak jako každý jiný živý tvor, i andulka potřebuje přijímat tekutiny a potravu. Proto je nutné andulce potravu podávat a to ve správných dávkách kvalitní stravu. K základní stravě je taky velmi důležitá strava, která jídelníček obohatí a zpestří.
Základní potrava aneb co byste měli mít vždy po ruce!: Senegalské proso, normální míchané proso, sépiovou kost, vodu, písek a popřípadě menší vitamíny!
Jak často mám krmit? Záleží to na fyz.zátěži. Čím více je andulka zatěžována ( létání ale i hnízdění ) tím více by měla dostávat potravy. Vezměme si příklad : Mladá andulka, která 50% dne traví nějakou činností - aktivitou ( létání, hraní, zkoumání ) by měla dostat jednou denně (nejlépe ráno) 3-4kávové lžičky míchaného prosa, večer může dostat senegálské proso, ovoce - zeleminu, tyčinku...

Ovoce je pro andulku velmi důležité, má hodně vitamínů C a potřebné látky. Podáváme je pouze čisté a bez chemikálního postřiku. ( Jablko podáváme raději bez slupky, slupka je totiž pro andulky špatně stravitelná. )
Tráva a listy, to je další potrava kterou andulky musejí dostávat. Pozor! opět umyté, opět bez chemikálního postřiku! trávu podávejte pouze v létě, kdy má dostatek živin, v zimě raději trávu nepodávejte – má spíše škodlivé účinky.
Senegalské proso, je nejen výživné ale má i hodně vitamínů a hlavně andulkám chutná!
Vhodné ovoce a zelenina pro andulky

| | |
| --- | --- |
| Zelenina | Ovoce |
| Petržel | Pomeranč |
| Mrkev | Jablko |
| Řeřicha | Kiwi |
| Cukety | Jahoda |
| Špenát | Hrozny |
| Kukuřice | Hruška |
| Čekanka | Ananas |
| Zelený hrášek | Meruňka |
| Mladé listy pampelišky | Banán |
| Hlávkový salát | Ostružina |
| Šťovík | Maliny |
| Listy špenátu | Třešně |
| Lilek | Mandarinka |
| Řepa | Meloun |
| Kadeřávek | Broskev |
| Batáty | Hroznové víno |
| | | |
| --- | --- | --- |
| | Protein % | Tuk % |
| PROSO | 11 - 14,5% | 3 - 4 % |
| | 16 - 19% | 5% |
| OVES | 16% | 6% |
Různé druhy zrní:
· lesknice - vhodná a postradatelná složka potravy andulek
· kokoška pastuší tobolka
· rdesno ptačí
· oves - většinou neloupaný, který je vhodnější než loupaný, protože není zbaven důležitých vitamínů a práce s jeho loupáním je prospěšná pro zobák, který pak nepřerůstá a nedeformuje se.
· proso - prosem rozumíme proso ve slupce, nikoli vyloupané jáhly které andulky zásadně odmítají. Tuk, který proso obsahuje, zůstává nezávadný, pokud slupka zabraňuje přístupu vzduchu, ale žlukne, jakmile slupku odstraníme, proto instinkt brání andulkám pojídat loupané proso. Je mnoho druhů prosa, lišící se barvou, velikostí a tvarem zrn : proso žluté, červené, šedé, bílé, senegalské proso v klasech, japonské, alžírské mohár, čumíza atd. Andulky nejsou na druh prosa nijak náročné, dávají sice přednost drobným prosům ale vystačíme si s domácím prosem červeným, žlutým a šedým. Nejdůležitější je jakost prosa, které nesmí být mořené, staré ani zaprášené.
Z tabulky nahoře je zřejmé, že oves andulkám obsahem hlavních živin lesknici nahradí. Tato semena v suchém stavu mají mít andulky stále k dispozici. Kromě toho je však můžeme dávat také máčená nebo naklíčená, k čemuž je vhodný oves.
Lidské jídlo není pro andulky svým složení vhodné. Těžko ale asi zabráníte, aby si váš miláček neochutnal něco z vašeho talíře když právě jíte. Pozor na horké jídla! Ptáček by se mohl popálit. Andulky žijící v hejnech jsou zvyklé dělat to co dělají ostatní členové hejna. Pokud žijete s andulkou považuje vás za člena svého hejna a tak když jíte vy, tak chce jíst i ona a co jíte vy to chce taky jíst.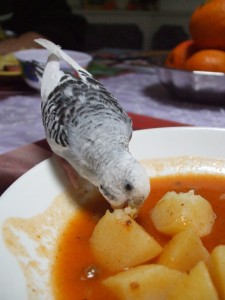 Nevhodné druhy potravy a podávaná potrava:
* Kapusta, brambory, zelené fazole, ošetření hlávkový salát, rebarbora, švestka, citron, avokádo...
* Studená, přímo z lednice podaná strava.
* Shnilé a plesnivé potraviny.
* Strava slaná, sladká kořeněná.
* Čokoláda a jiné sladkosti.
* Smetana, máslo, sýr nebo jiný tuk nebo tučné pokrmy a už vůbec ne alkoholické nápoje a káva.